Enjoying a languid vacation on the 30A this spring? Or… maybe you're shivering at home and wishing you were on the beach? Why not try out some delicious beverages to celebrate the world-famous Redneck Riviera?
Only on the "Redneck Riviera"
Traditionally, the "Redneck Riviera" refers to the coastal areas on the panhandle of Florida. The Flora-Bama Beach Bar is considered the gateway to this region, which includes Panama City Beach, Destin, Fort Walton and the 30A. It is a term of endearment, but does allude to the boozy vacations often associated with the region.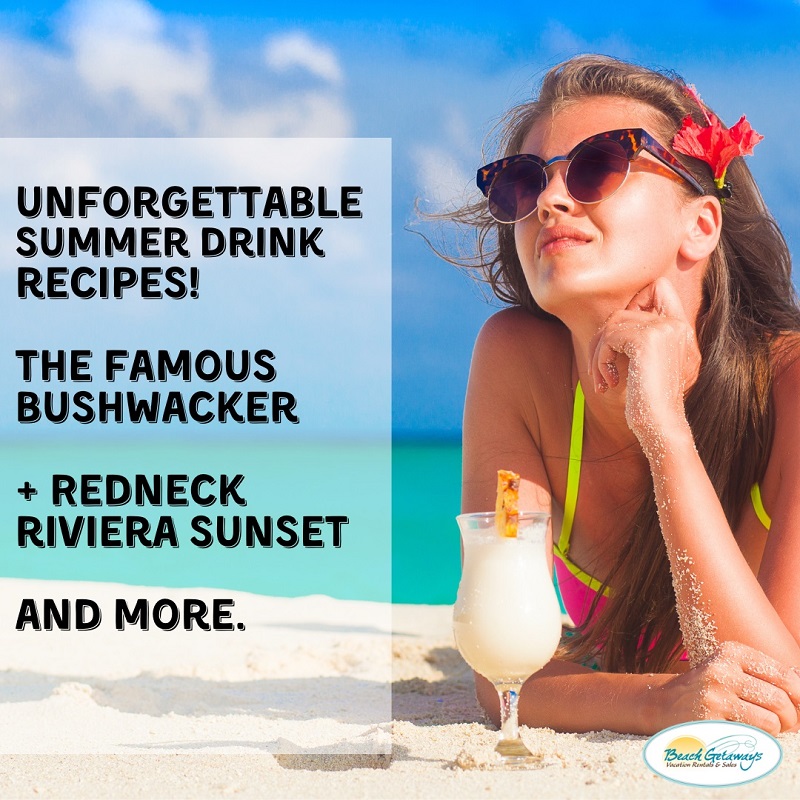 Our Favorites
So, whether vacationing or not – here are our favorite mixed drinks (spiked and virgin) to enjoy on the beach (or wishing you were.)
Bushwhacker – Bar-none, this is the most well-known drink on the Gulf Coast. The tasty treat originates in the Caribbean, but locals have made it our own. You are likely to find the decadent drink at any bar, pub and restaurant you visit. It is definitely a sweet way to enjoy your vacation! Here is a basic recipe if you want to try and make it: 4 oz. Cream of Coconut, 2 oz. Kahlua' Coffee Liqueur, 1 oz. Bacardi Black Rum, 1 oz. Crème de cacao, 4 oz. Half-and-Half, Vanilla Ice Cream. Blend ingredients with 2 cups of ice. Top with a cherry and chocolate syrup.
Redneck Riviera Sunset – Looking for something a little less sweet, but still tropical? This namesake drink has a great combination of sweet and tart flavors, and looks just like a coastal sunset. Here's the recipe: 1.5oz spiced rum, juice from ½ lime or lemon, 1.5oz orange juice, .5oz grenadine, 2oz sparkling water.
Redneck Riviera Whiskey – Technically not a cocktail, but how can you not want to try whiskey that carries the region's name? You will find this Country-music inspired libation at many of the local liquor stores on the Florida Panhandle.
Sparkling Blueberry Lemonade Mocktail – If you prefer to skip the alcohol, we think this mocktail is a perfect beachy substitute. Homemade or store bought lemonade will do. Serve in a mason jar for easy shaking and pretty presentation. Muddle a few blueberries, a spritz of lemon juice and basil in a glass. Pour in 2oz of lemonade, ice, and a few splashes of seltzer water.
What drink will you be enjoying on the beach this spring? Ready to book your next vacation? Click here to see our properties on the 30A!