Two of our favorite attractions in coastal Alabama are OWA and The Wharf. They are family friendly places with lots to do all year. What do these two attractions have to offer?
OWA Waterpark Foley AL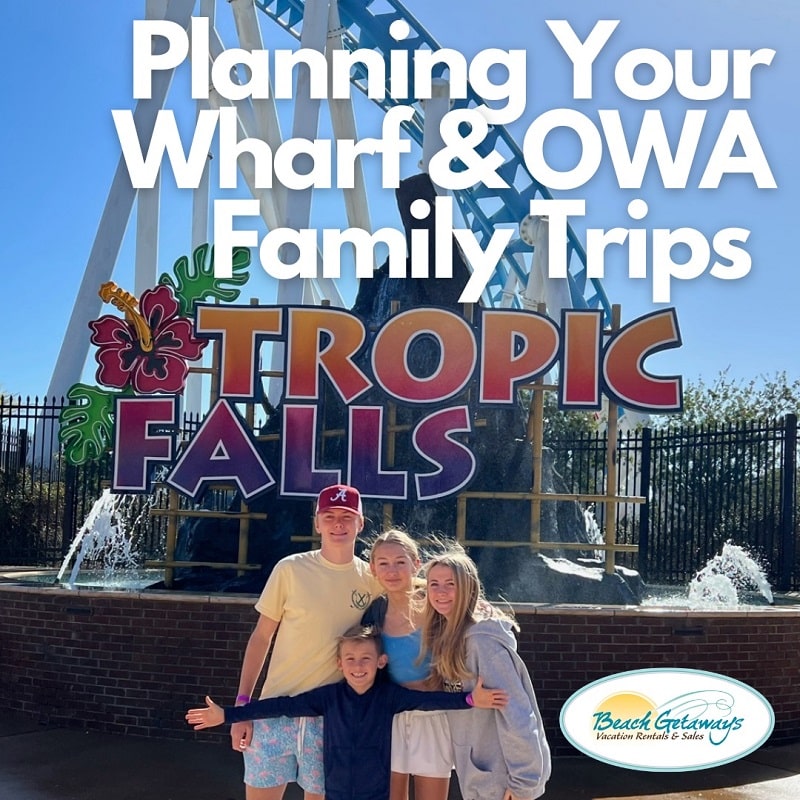 If you plan a trip to OWA Waterpark – plan to be there all day! There are some great restaurants, an outdoor theme park called Tropic Falls, shows and a brand-new indoor water park. At the gated amusement park, there is something for everyone. There are kid-friendly carnival-type rides and thrillers like the gigantic rollercoaster that spans the entire park.
And you definitely want to check out the new indoor Tropic Falls Water Park! There is a gigantic splash area for kids that includes slides, water guns, a big bucket and many other ways to get wet. There is a big lazy river. And there are some heart-pumping big rides that take you outside and underground. Phase 2 will be completed in 2023 and includes an outdoor wave pool.
While there are places to eat inside the theme park, there are also some really cool restaurants just outside the gates – these include Paula Deen's Family Restaurant, Lucy's Retired Surfers Bar and Restaurant, The Groovy Goat and C'est Le Vin.
The Wharf Orange Beach AL
The Wharf is a central location for shopping, festivals and shows, food and concerts.
One of the premiere events is The Boat and Yacht Show, the top boat-buying show on the Northern Gulf. On March 17-19, there will be over 120 exhibiting companies and more than $100 million in boats and marine products to explore. Check out this link for more information.
While there are many great places to shop at The Wharf, our favorites are Seaside Shoes and SWIM, Utopia, Bungalows and Sand Dollar Lifestyles. There is also something for everyone when it comes to food! We recommend The Southern Grind Coffee Shop, Mo'Bay Beignet Co., Murder Point Oysters and Villaggio Grille.
Concert season is just around the corner at the Wharf Amphitheater, and this year's lineup includes big names like Kenny Chesney and Hank Williams Junior!
If you're ready to book your spring or summer vacation, you can browse and book directly on our website!