The Vacation Rental Marketing landscape has changed… maybe it's time for you to partner with Beach Getaways
About five years ago almost 75% of the bookings came through phone calls to reservation desks and 25% though online bookings. In just five short years it is has totally reversed. Now 75% of vacation rental bookings are online and over 60% come through mobile devices. Technology will drive the Rentals of the future. You need a partner that knows technology.
We Know Technology
Our team employs aggressive strategies that utilize our company website, online marketing channels, email marketing and social media in our target markets. We also partner with some of the best online marketing firms that specialize in the vacation rental industry to be sure we're on top of trends. We utilize some of the most advanced reservation software in the vacation rental industry. Plus our software incorporates some of the most sophisticated high-tech nightly rate management pricing tools.

We Make the Rental of Your Condo a Priority
Strategic Marketing of your property through our multi-channel marketing
Maximum exposure through multiple Online Travel Agency listing sites like VRBO, Homeaway, Booking.com and AirBnb
Professional Photos with Interactive Floor-Plans
Website Landing page for every Condo Complex
Website Landing page for every property
Promote your property through Social Media sites | Facebook, YouTube & Google+
Promoting our company website to Search Engines with an up to date SEO strat
We actively solicit reviews from every guest that visits your condo
Email marketing campaigns to our proprietary list of 50,000+ new & repeating guests
Maximum exposure through major Online Travel Agency listing sites
Our Reservation Software is directly integrated with Online Travel Agencies websites. Your property will be distributed and listed on the following 3rd party Online Travel Agencies to maximize visibility and rentals to increase your bottom line.















Professional Photos
& Interactive Floor-Plans
We now have the capability to provide stunning high-resolution professional photos and interactive floor plans of your property that will give potential guests a real live feel as they look around from different perspectives.
We convert lookers into bookers FAST by providing guests with 24/7 viewing access to your property. Professional interactive floor plan tours allow your guests to see details about the property they demand and increase their confidence in booking online.
Whether browsing on their smartphone at a soccer game, receiving the tour link from a friend or family member, or daydreaming of their upcoming family vacation while browsing on their computer, your potential guest can view your property and make immediate decisions. Show off your style, décor and amenities with stunning photography all while allowing guests to plan their vacation utilizing the floor plan.
Professional interactive floor plan tours help us maximize our rental conversions and maximize your bottom line!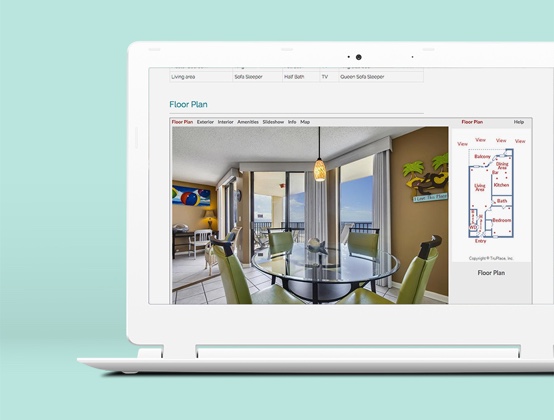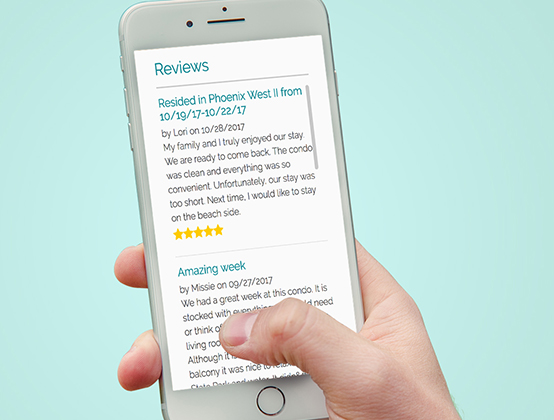 Reviews, Reviews, Reviews…
One of the main that factors todays guests are looking for in addition to professional photos is they want to see reviews and what they really want to see are 5 star – GREAT reviews for your condo! How is your current rental company doing in this department? We will solicit reviews from every guest that visits your condo. How do we get such good reviews you might ask? We also actively solicit feedback the day after the guest arrive with an email asking them "How is everything going?" This allows us to immediately rectify any issues they might have which vastly improves the guest experience and the positive reviews. Reviews are big, and guests make decisions based on reviews.
Nightly Rate Yield
Management
Yield management allows us to set up pricing structures for your condo based on historic data, local events, travel trends, and specific property enhancements. This allows us optimize revenue and occupancy with sophisticated rate plans. We are constantly monitoring and setting rental rates for every property to determine the optimum nightly rate. Our pricing software tracks changes to key metrics, like Occupancy Rate, Total Revenue, Revenue Per Available Night, and Average Daily Rate.
We can increase and decrease rates based on the
following factors:
Historical data from past reservations
Current and future occupancy rates
Increase or Decrease based on local demand
Comparable properties occupancy and nighty rates
Season and Day of the week trends
Annual holidays and local events
Minimum & Maximum nightly rate rules
Decrease rates to incentivize last minute bookings
What our Owners have to say…
Thanks so much Ken! This is great news…we've been very pleased with your rentals these past 2 years. Please let me know of any other suggestions you may have. I want to do whatever I can to keep us at the top!

Ted & Jania from Alabama
Ken, I would like for you to know that since changing from a large rental company to Beach Getaways, I have had by far the best rental year ever. I appreciate the personal treatment that I and my renters receive. All my friends and family that use my condos say the same.

Jim from Alabama, Former Director Phoenix Condo Owners Association