Join our Phoenix Rental Program!
Beach Getaways is quickly becoming one of the trusted names for property management in Orange Beach and Gulf Shores. We have focused on beach front Luxury Vacation Rentals that provides a consistent quality of properties in the popular Phoenix resorts in Orange Beach.
We have over 20 years' experience managing condos in the Phoenix resort buildings in Orange Beach. Come join our Phoenix Rental Program and let us help you increase your rental income. When you join the other owners on the Phoenix Rental Program you will save on management fees plus enjoy increased occupancy and higher gross rental income. You can be assured that your investment property is in safe hands and that guests go home having experienced a trouble-free stay from check in to check out.
Is your property management company too big to make renting your condo or beach house a priority? If so, contact us now! In todays over saturated market and economy it's time to take measures above and beyond just sitting back and hoping that your same old rental company is going to make renting your condo a priority. Maybe it's time to join our Condo Owners and move your condo to our Phoenix Rental Program. We will work to make sure your condo is rented for the maximum number of nights and rented at the optimum rates all with lower management fees.
First-Class Property Management Orange Beach & Gulf Shores
For first-class Property Management Orange Beach & Gulf Shores property owners are choosing Beach Getaways to partner with. Our professional Rental Managers and Property Management staff understand the value of your investment property and the need to maximize the rental income. We spend the time and money to make sure you get the exposure you need.
Benefits of Partnering with Beach Getaways
Local office located on Perdido Beach Blvd. in Orange Beach
Professionally trained Hospitality staff handles guest reservations
Professional Photos & Floorplans displayed on our website & Mobile App
Maintenance 24/7, we have managed Phoenix properties for over 20 years
Express Check in for Guests with High Security Code operated locks
Guests APP for mobile devices provides all check in instructions & area guides
Provide you and your guests with Upgraded Linens & Towels at no extra charge
Online Owner portal and Direct Deposit of rental income available
We will market your property through multiple websites online
No charge back to Owners for Credit Card fees
Nightly rate management pricing tools to achieve maximum Rental Income
Comparable Market Analysis to determine current market rents & trends
Maximize the Rental Income by increasing occupancy throughout the year
You will net more of your Rental Income with low management fees
BONUS: Ask about our Owner Appreciation Services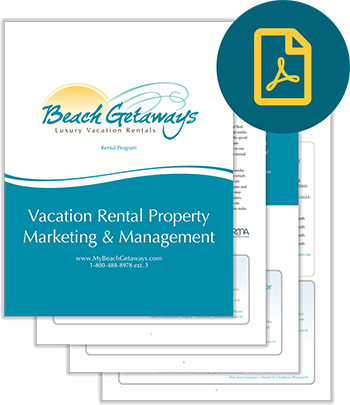 Contact us now to receive a 12-page PDF booklet
Learn more about our Rental Program in detail.
"Best Rental Year Ever"
Ken, having had our condo managed by one of the largest management companies on the Alabama coast since 2004 and then managing it ourselves for the next two years, I had had enough! I got a letter in the mail from Beach Getaways in August of 2014 explaining their services. We then signed an agreement in October that year. Our 2015 & 2016 rental income is up a documented 50% and I didn't have the usual hassles and worries. Truly professional and honest in every way. I stake my reputation on it.

Wayne from Illinois, Owner of Construction Company