Relax in paradise at this beautiful beach house located in Seacrest Beach on the 30A. Enjoy quiet brick-paved streets and walkways and easy access to the beach. Float or swim in the 12,000 square foot pool and dine poolside at Seacrest Beach Cafe. Walk to the shops and restaurants of Rosemary Beach or The Village of South Walton. Or just put your feet up in this spacious beach house.
Perfect for Family Vacations
Aquanut is a large 3 bedroom, 4 bathroom, two-story beach-house located on 30A. It is perfect for families or a small group of friends looking to reconnect. You will find a spacious dining area with seating for 6 people, plus additional seating for 4 at the breakfast bar.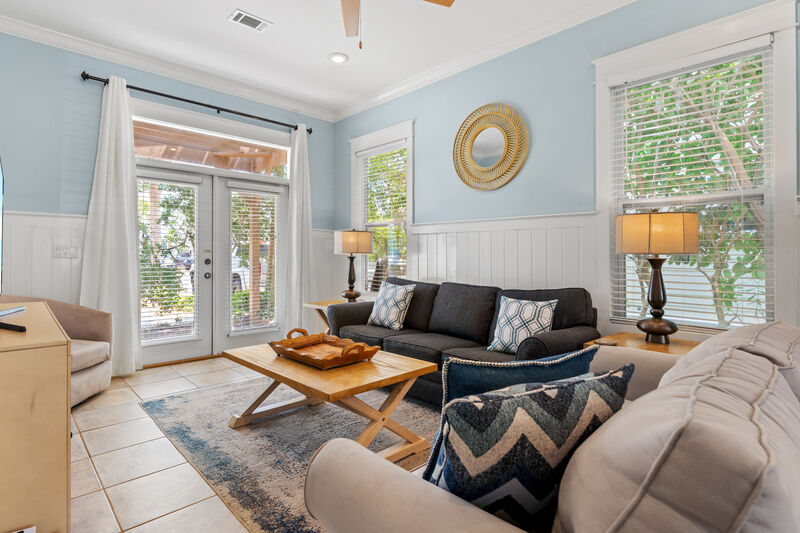 The kitchen is fully equipped for gourmet meals or a quick snack. Enjoy a cozy living room with lots of comfy seating. There is a front porch and a balcony overlooking the community of Seacrest Beach.
The master bedroom has a king-size bed, an en-suite bathroom with a walk-in shower, and private balcony access. The first guest room has a queen bed and a full bathroom. The second guest room has two sets of twin bunks and a bathroom. There is an additional guest bathroom and a laundry room on the first floor.
Rejuvenate in a Home Setting
The 30A has increasingly become a destination known for both beautiful outdoor scenery and great food, shopping and nightlife. Vacationers here love to walk or bike around town and to the beach, meet up at coffee shops and enjoy the ease of a semi-urban lifestyle on one of the most beautiful beaches in the world.
Aquanut – Part of a "New Urban" Community
Seacrest Beach is a planned "New Urban" community, much like the more well-known 30A communities of Seaside and Rosemary Beach. The developers worked to create a peaceful locale for families and friends to relax and rejuvenate. They also sought to create an environmentally conscious development.
To take a virtual tour of Aquanut in Seacrest Beach FL and book directly through Beach Getaways, click here.