Don't Miss It!
The signature event of the year in Gulf Shores, Alabama is the Annual National Shrimp Festival. It is a free, open-air festival that usually welcomes between 100,000 and 250,000 people each year. And they serve more than 10,000 pounds of shrimp every day! You can find delicious, plump Gulf shrimp fried, boiled, steamed, blackened, on a bun, in a taco… pretty much any way you can imagine. 
While this event is centered on Gulf seafood, you will also find it is a celebration of local music, culture and artwork as well. After a two-year hiatus during the global pandemic, Gulf Shores Shrimp Festival 2022 is sure to be a big one. If you plan to attend, check out this info about the festival, so you can make the most of your trip.
49th Gulf Shores Shrimp Festival Hours
Thursday, Oct 6th – 10 am to 10 pm
Friday, Oct 7th – 10 am to 10 pm
Saturday, Oct 8th – 10 am to 10 pm
Sunday, Oct 9th – 10 am to 5 pm
Food
There will be a food boardwalk with lots of different options. There will be chef-inspired dishes and old-fashioned favorites. Even if you do not love seafood, there are always lots of great treats to please every palate.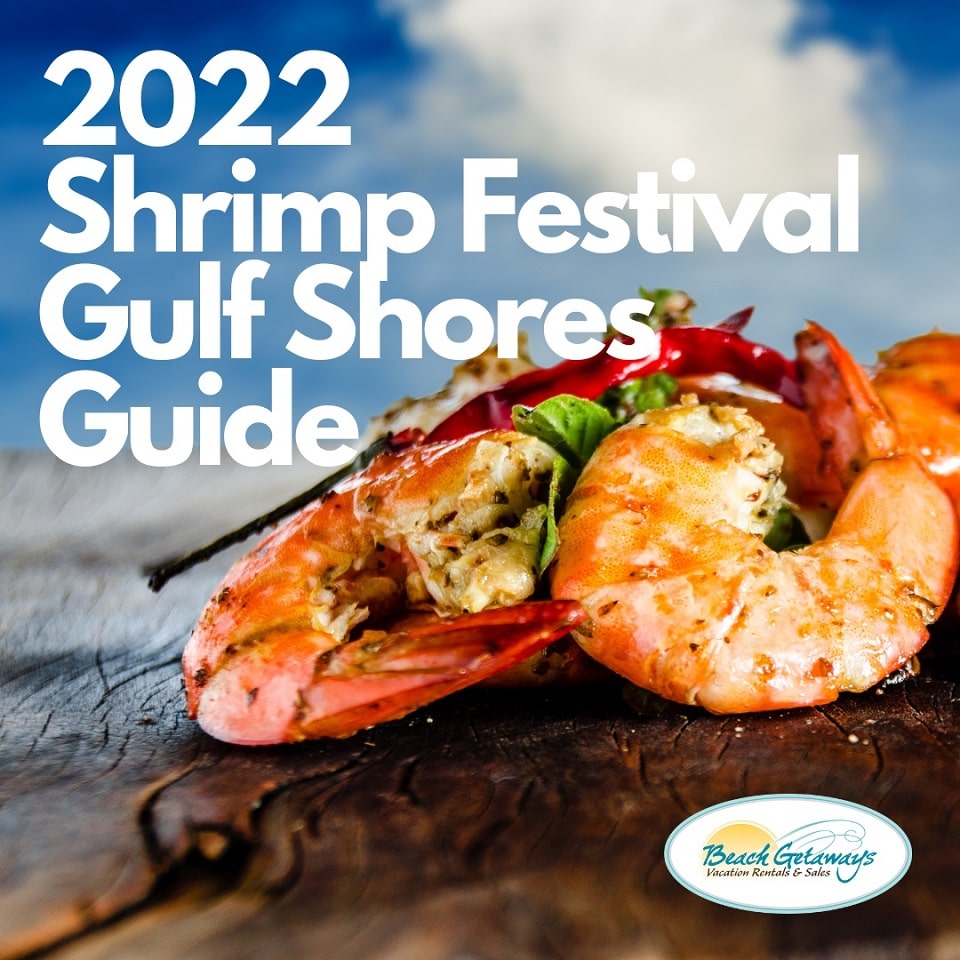 Music
The festival has two live music stages with local favorites from around the Gulf Coast region. There will be musical acts to please all tastes including Blues, Motown, Southern Rock, Jazz, Zydeco and Country. Here is a link to the entertainment schedule. There is also a Singing for Scholarships contest for high school seniors.
Fine Art and Craft Art
The festival attracts talented fine artists and craftsmen from across the country. Enjoy strolling the booths, conversing with artists and/or shopping for your collection. For folks who collect the Annual Shrimp Festival Poster, get your copy signed on Saturday from 2pm-5pm.
Activities
There is a special section of activities designed especially for kids called the Children's Activity Village. There is also a Miss Shrimp Festival Pageant contest, a sand sculpture contest, a golf challenge and a 5K/10K.
Want to learn how the sand castle pros do it? Sand Sculpture Demonstration & Training is on Friday from 1pm-3pm featuring Janel Hawkins of Sand Castle University.
Parking/Shuttle
The main beach in Gulf Shores has a lot more parking now. You might get lucky and be able to park your vehicle close to the venue if you arrive early. But parking is limited. Organizers recommend the shuttle that will be running people from other large parking lots to the festival. Here is a link to the shuttle stops. The cost is $5 per shuttle rider and they can be purchased at this link. Check back here to see any road closures the 1st week of October.
As of 09/20/22
𝐆𝐮𝐥𝐟 𝐒𝐡𝐨𝐫𝐞𝐬 𝐒𝐡𝐮𝐭𝐭𝐥𝐞 𝐒𝐭𝐨𝐩𝐬:
• Pelican Place at Craft Farms: 3800 Gulf Shores Pkwy.
• Erie Meyer Civic Center: 1930 West 2nd St.
• Waves Grocery: 1154 West Beach Blvd.
• Lake Shelby in Gulf State Park: 20115 AL-135
𝐎𝐫𝐚𝐧𝐠𝐞 𝐁𝐞𝐚𝐜𝐡 𝐒𝐡𝐮𝐭𝐭𝐥𝐞 𝐒𝐭𝐨𝐩𝐬:
• The Wharf: 23101 Canal Rd.
• Rouses Market: 25405 Perdido Beach Blvd.

Need to book your stay for the Gulf Shores Shrimp Festival 2022? Check out our available condos in Gulf Shores here!