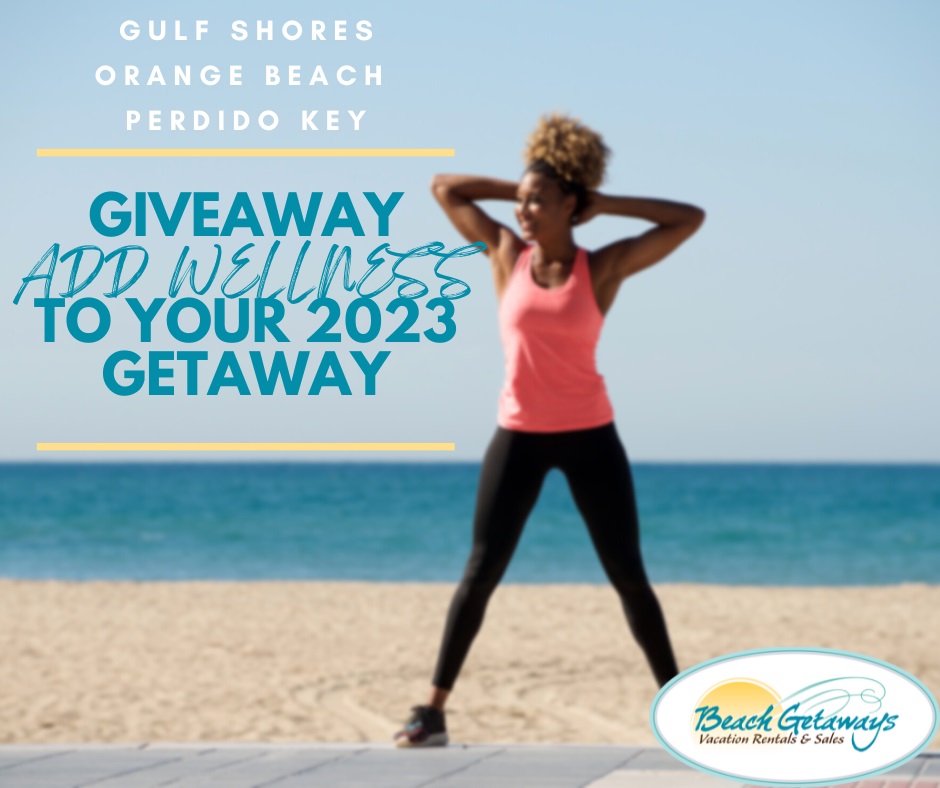 With a Special Gift While Supplies Last …
If you are needing to recharge after 2022, start off 2023 with a little self-care. We know the perfect spot to recharge: Right here on the Gulf Coast! Hit the reset button for the New Year with a personal relaxation weekend. Here are some of our favorite ways to care for your mind, body and soul here on the Alabama Gulf Coast.
Enjoy Nature
If you like to de-stress in nature, there are so many ways to do that on the Gulf Coast. Enjoy long walks on our beautiful white sandy beaches. Run, walk, hike or bike on one of the many local nature trails. Paddle through the backwaters, lakes and canals on a kayak or SUP board. Or just watch the rhythm of the waves from the warmth of your vacation rental. The great thing about the Gulf Coast – it is usually temperate enough to enjoy the outdoors all year!
Stretch it Out
Yoga is an amazing way to breathe, stretch and get your heart rate going. And doing all that near the beach is pretty close to Nirvana! Check out one of our favorite spots, Glow Yoga in Gulf Shores. They offer indoor and outdoor classes (depending on the weather) and drop-in pricing for visitors.
Spring for a Spa Day
Get all the 2022 stress out with a massage, facial or other spa service. Reduce stress, inflammation and soreness; and increase relaxation, detoxification, and circulation. Our favorite places are Austin Massage or Serenity at the Beach. Or, try something completely different – Magnolia Float Spa. Studies have shown that just one session in a sensory deprivation tank can improve mood and decrease anxiety!
A Special Gift When You Book at MyBeachGetaways
If a Week of Wellness at the Beach sounds heavenly to you, book today on our website! Beach Getaways has a special Wellness Gift Basket* for our vacationers, while supplies last, that includes gift cards for coffee or tea at Southern Grind, Smoothie King, Comphy Socks, Shower Bombs, Mindfulness Cards and Coupons for a Yoga Class! In addition to these items, our gift to you will include one of the following options: 1 lesson on a Stand Up Paddle Board with Pure Aloha Adventures, 1 Massage at a local spa, OR 1 session at Magnolia Float Spa. Let us know upon making your reservation so that we can be sure to include it in your basket.
*Gift basket is valued at over $175. The first 10 guests to book a 5 night stay between Memorial Day and Labor Day in 2023 will have a gift basket delivered to their vacation rental upon arrival. Includes stays in Alabama, including Perdido Key, FL. Note: Excludes 30A stays. *Some restrictions apply. 5 nights or more stays between May 26, 2023 and September 4, 2023. Beach houses may require a 7 night minimum. While supplies last.
Use Coupon Code WELLNESS23
Book your Mind and Body Recharge 2023 today! Use coupon code WELLNESS23 when booking online. Call 800-488-8978 x 1 for any help or to apply code.