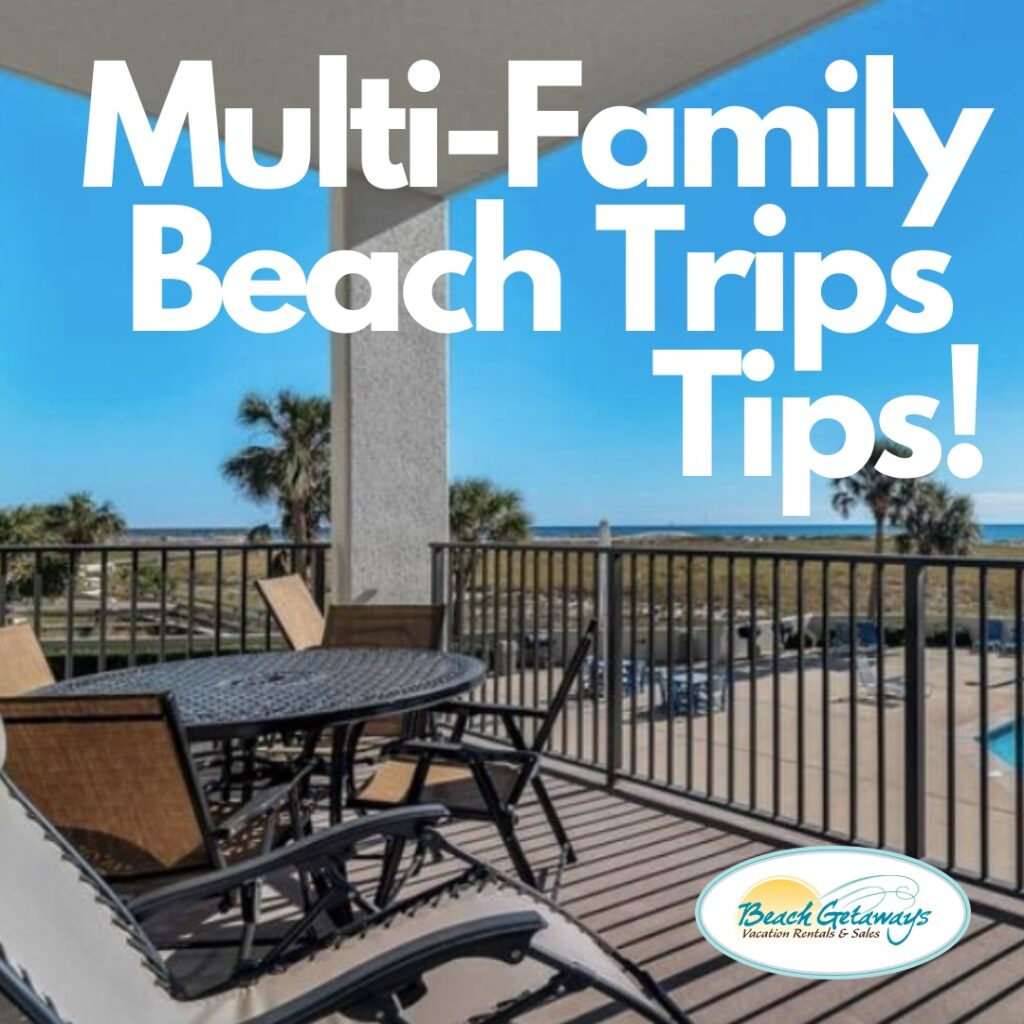 Time for the Beach
After a couple of years of social distancing, we think that 2022 is the year for multi-family travel! If you are planning a big group trip to the Gulf Coast of Alabama or to the 30A in Florida, here are six multi-family trip tips to make your vacation a success.
Group Chat – First thing's first! Make a chat group for all of the adults involved in the trip. Nothing is worse than cutting and pasting people's responses because you only texted 3 out of the 5 people. This way you can discuss plans ahead of time. If you want to keep it simple, most people are willing to use Facebook messenger or create a private Facebook group. Another bonus of creating a Facebook group is the simplified photo sharing. Of course, if everyone has an iPhone, iMessage is an easy choice. You can also create a shared file with travel details on Google Docs or iPhone Notes.
Coordinate your travel plans – You can enjoy the journey with your friends, as well as the destination. Whether you're flying or driving, it's always fun to travel and explore the route together. Stop at a new restaurant or swap out cars to keep it interesting!
Talk about your expectations – If this is your first time traveling as a group, each person may have different ideas about what the vacation will look like. Do you want some alone time with your immediate family? Do you hope for downtime? Excursions? Eating out? What about kids' needs, like naps and limits to screen time? These are great things to ask the other families about ahead of time!
Plan meals ahead – Coming up with a meal plan is a great way to share responsibilities and plan for time together. If you create a schedule of meals, you can make a list of items needed for each meal and families can sign up to contribute. You can also pencil-in the times you would like to eat out and discuss where you want to go. You can even simplify things further by having your groceries delivered when you arrive by one of the Gulf Shores providers like Beach Moms.
Make reservations ahead – Because you will be in a big group, we recommend making reservations for any meals out or activities well in advance. This is especially true if you plan to travel during peak summer months.
Check and review details – Be sure that all families are aware of things like parking rules, arrival procedures and other details about the trip including the door codes!
Beach Getaways Makes it Easy
You can make one aspect of your trip super-easy. Book your condos or beach houses directly through our Gulf Shores website!