Breaking News: We are excited to be adding an incredible new region to our rental program in the coming months! Beach Getaways will soon be offering vacation rentals and management in the greater Pensacola Beach and Navarre Beach area!
So is Pensacola Beach nice? You bet it is! Pensacola Beach is one of the great hidden gems of the Florida Gulf Coast. Just like our properties on the Alabama Gulf Coast and the Florida 30A, you can enjoy pristine blue water of the Gulf of Mexico and the beautiful white sand. But you also have a few unique benefits to this area.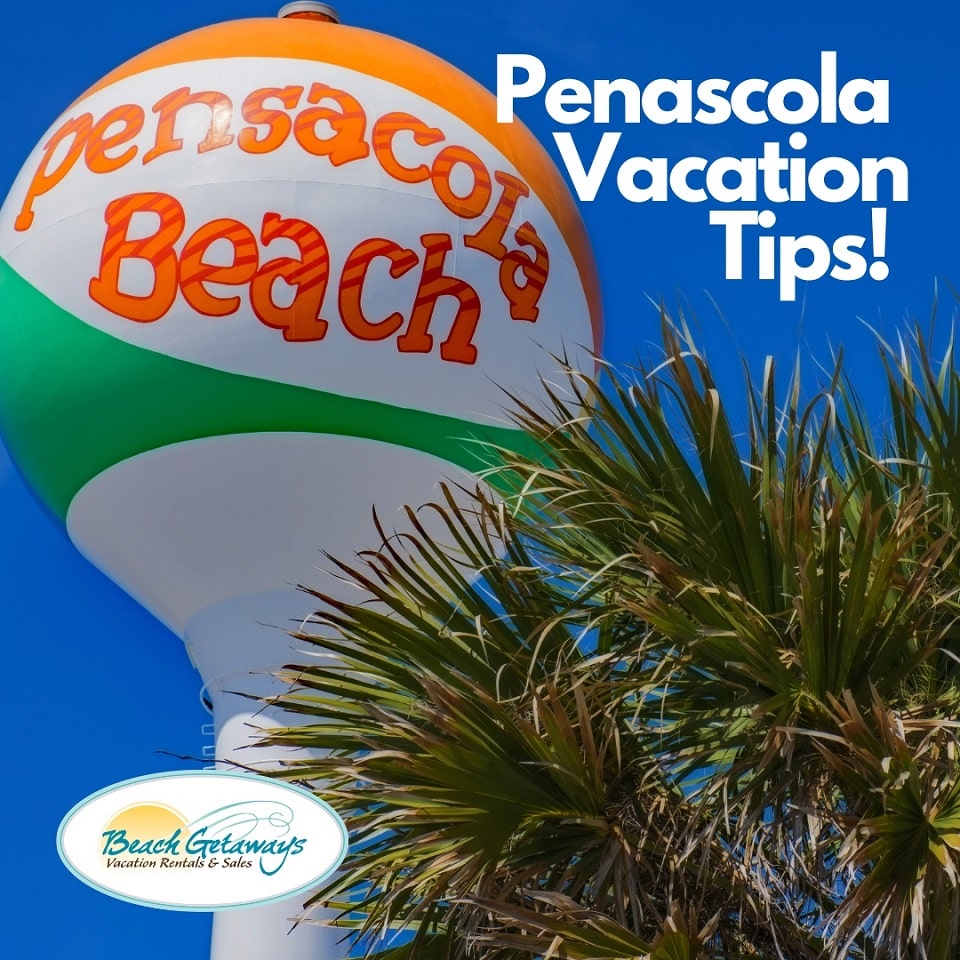 Several Beach Choices
While your vacation property will probably have a perfect spot – you can explore the other amazing beaches nearby. Enjoy some extremely remote and quiet beach areas in the Gulf Islands National Seashore, with a big chance of seeing wildlife. This park is located both to the east and west of Pensacola Beach. You can also enjoy a beach with a little bit more action on the famous Casino Beach, under the iconic beach-ball water tower.
Downtown Pensacola
Also, near Downtown Pensacola, you can watch a baseball game with a waterfront view at the Blue Wahoos stadium. Catch a hockey game in the cooler months with the Pensacola Ice Flyers. Downtown also boasts parks, waterfront walkways, cultural events, and gathering spots.
Restaurants
The culinary adventure in the Pensacola Area is as wide and varied as its diverse population and history. Enjoy the famous Grits a Ya-Ya at The Fish House or buy some of the freshest seafood at Joe Pattis (prepared or raw.) Relish in some Irish fare and fun at the famous McGuire's Irish Pub, listen to some great music and eat some amazing southern food at Five Sisters Blues Café, or venture to one of the highly acclaimed taco spot, El Asador. (And this is a very small sample!)
Many Other Attractions
Pensacola is home to the Blue Angels and hosts two airshows each year – one on the beach in July and one on the base in November. But, vacationers in Pensacola are also almost guaranteed to see them practice! Also, be sure to visit the recently re-opened Naval Aviation Museum, Fort Barrancas and the famous Pensacola Lighthouse and Maritime Museum! And, don't forget to try your hand at some great fishing at the Pensacola Beach Pier.
Start Making Plans!
Beach Getaways cannot wait to host you on your next adventure in this beautiful part of the Gulf Coast!